Home | About Club El Bianco | Artifacts | Wall of Fame | Wallpaper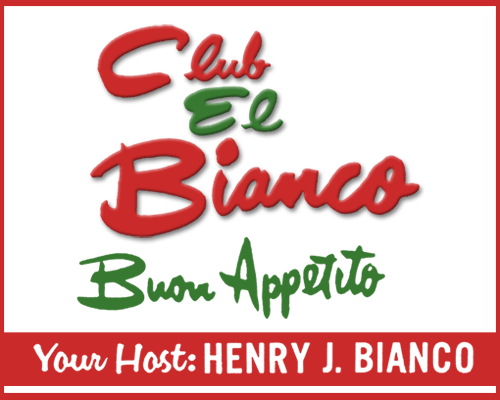 WELCOME is an old, old word — — and a fine one.
We can think of no better way of saying how pleased
we are to have you as our guest — — to serve you
well prepared food and the finest of drinks. And
so we say, "You are always welcome here — — always."
BIANCO'S FIESTA DINNERS are a Gourmet's Delight,
served in a manner befitting festive royalty of old.
Each and every course is a revelation, enhanced with
recipes handed down through the ages, and brought to you...
"ŕ la BIANCO"
* * * * *
Club El Bianco was located on Chicago's historic
southwest side at
2747 W. 63rd Street
which is
now home to Lalos Restaurant
---
You are visitor

since January 12, 2006